New research Automatic analysis MJM Sleep Bruxism detection in NSS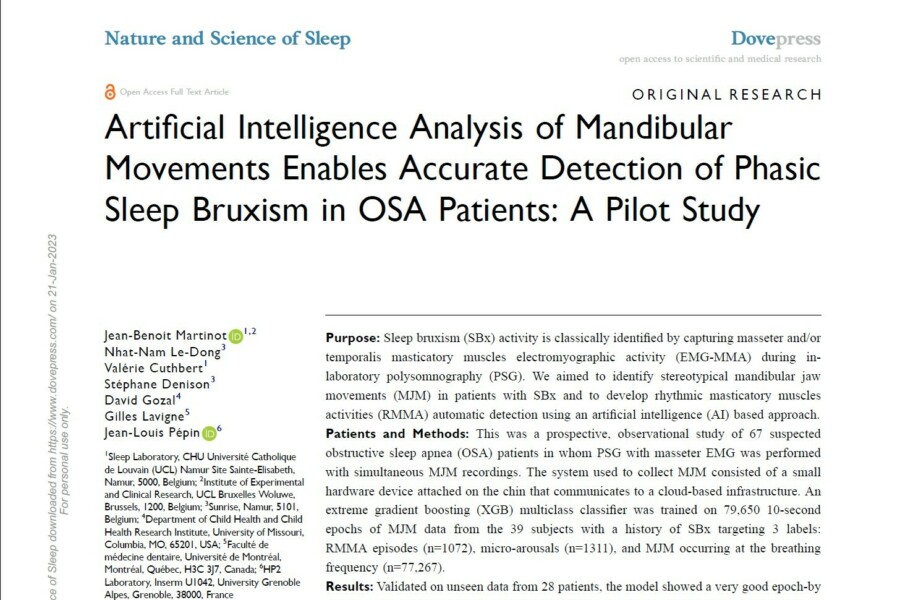 23 August 2021
A study by Jean-Benoit Martinot et al. recently published in Nature and Science of Sleep aims to identify stereotypical MJM in patients with sleep bruxism (SBx) and to automate the detection of rhythmic masticatory muscle activity (RMMA) using artificial intelligence (AI).
In this prospective study on 67 patients suspected of OSA referred for overnight PSG, the authors identify stereotypical mandibular jaw movements (MJM) patterns in patients with sleep bruxism (SBx) and assess the performances of an AI-based approach for SBx.
Findings indicate that MJM activity can accurately detect RMMA episodes with a very good agreement when compared to the gold standard of polysomnography.
The article concludes that SBx can be reliably identified, quantified, and characterized with MJM when subjected to automated analysis supported by AI technology.
Read the article https://lnkd.in/dZ73-SYa